In Search of Clarity: Three Perspectives on Iran
Exhibition dates: March 22 – April 20, 2012
Artist's Reception: Thursday, March 22, 7 p.m. – 9 p.m.
Discussion with the artists at 7:15 p.m.
The Antelope Valley College Art Gallery is proud to present the work of Arezoo Bharthania, Farnaz Sabet, and Shilla Shakoori in the group exhibition In Search of Clarity: Three Perspectives on Iran. Working in installation, mixed media, and ceramics, these three Iranian-American artists explore complicated relationships with their home culture. Confronting charged political topics, the artists sensitively navigate those fissures between cultural identity and state. While Iran the country becomes a shifting concept that is both personal and impermeable, intimate and alien, an enduring, solid voice emerges through these works as the Iranian people. Together, Bharthania, Sabet, and Shakoori probe the meaning and location of cultural identity under political upheaval.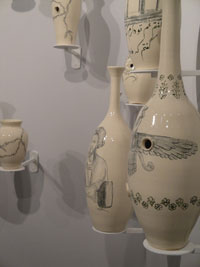 Farnaz Sabet
The title In Search of Clarity underscores both the conceptual and formal operations connecting these works. Although functioning very differently, the works all play with obscuring or distorting a message, image, or form so that it might be better heard and understood. In her installation, Shakoori references a cafe setting, a location normally associated with open dialog and community issues, to "demonstrate that although the Iranian government suppresses any spoken or published voice, those thoughts and ideas exist in the minds and hearts of the people." Clandestine message are engraved onto a white chair and spoken through hushed audio to enhance the concept of oppression and allow the viewer to question and compare the shared thoughts.
While Shakoori's work firmly engulfs the viewer in the present, Bharthania's multi-media work expresses grave concerns for the future of Tehran and its chronic, rising air pollution. Working with images from her last visit to Tehran, Bharthania embeds photographs of the city between multiple layers of pigmented resin or plexiglass, creating suspended images that are both ghostly and sculptural. This interment of the photograph in resin functions "as a metaphor for the literal smog and the more abstract lack of clarity about Tehran's future".
In contrast, Sabet's ceramic installation investigates the past, specifically her grandfather's execution for his religious beliefs and the problems her family has faced after the Iranian revolution. Before being delicately painted with familial portraits and Persian motifs, Sabet's pre-fired ceramic vessels are brought to a firing range and 'executed'. The eerily smooth bullet holes not only reveal the ease of execution, but also symbolize the endurance of family: "Clay reacts in a similar way to families; the pieces that are shot do not shatter and what remains is an enduring hole. Human families do not shatter but what remains is that everlasting mark."
Bharthania, Sabet, and Shakoori are currently completing Master's level degrees in the Studio Art Program at California State University Northridge.