Cross Currents: Ji sun Park and Anthony Ragucci
Exhibition dates: February 25 – March 29, 2013
Closing Reception: March 26, 7 p.m. – 9 p.m.
Artist Talk with Ji sun Park at 7:15 p.m.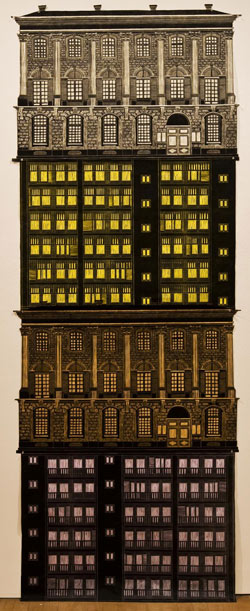 Ji sun Park, Portrait, Linoleum Cut installation
The Antelope Valley College Art Gallery is proud to present Ji sun Park and Anthony Ragucci in a joint exhibition exploring their common touchstone of place, South Korea. Originating from and now living on opposite sides of the globe, these two artists sensitively negotiate closeness and distance to understand how place operates as a conceptual medium. The title CROSS CURRENTS refers not only to the artists' biographical geographies, but also to the transmissions and interchanges that occur between two such different yet connected bodies of work, together formulating an amorphous and evolving picture of place.
In her installation of massive linoleum cuts depicting colorful and idyllic Korean palaces and European dollhouses, Ji sun Park, an MFA-printmaking student at CSULB, creates a psychological portrait of the average South Korean. The concept of printmaking, in which multiple impressions are usually generated from a single matrix, informs the idea of the homogeneous Korean race. From Park's point of view, the matrix can be seen to represent Korean society, while the various prints can be viewed as the individual. Her assemblages of palaces and dollhouses are a metaphor for wealth and social standing, symbolizing a visual fantasy that many Koreans desire, but are unable to achieve. Bright and daring hues express what the superficial consumer substitutes for true feelings.
Anthony Ragucci, an American painter based in Seoul, was inspired by Korean artists and working methods to give up oil painting and devote his practice to making and cutting out watercolor and ink brushstrokes on paper. His Brushstroke Dioramas construct three-dimensional narrative scenes out of these paper brushstrokes to explore the trials and tribulations of his character, "Johnny Paintstroke". Exploring moments like a failed joke, an awkward first date or getting lost in a new place, Johnny Paintstroke confronts Ragucci's lived experiences from his past 5 years residing in Korea in the form of a diorama, painting, drawing and video. Although seemingly small or insignificant, Ragucci recognizes the influence such experiences have on how he continues to move through life and present himself to others.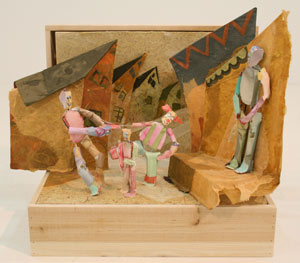 Anthony Ragucci, A Failed Joke, Watercolor and Korean Mulberry Paper Diorama in wood box
Despite their highly different visual syntax, these two bodies of work create a rich dialog in which place is both present and distant, constantly in a state of construction and exploration. Both Ji sun Park and Anthony Ragucci painstakingly cut their forms from Korean Mulberry paper to layer flat elements together. Their constructed environments transform the traditional flat media of printmaking and watercolor into vibrant sculptural forms. The paper's thinness and transparency builds into sturdy and seemingly weighty structures, creating a contradictory, dreamlike visual experience.
Park has held many exhibitions and received many awards including the Los Angeles Printmaking Society (LAPS) Foundation Scholarship in 2012 and the top prize at the School of Museum of Fine Arts Print Exhibition in 2010. Anthony Ragucci originally hails from Boston and received his MFA in painting at the University of Indiana in 2006, where he first came up with the Johnny Paintstroke character. He has exhibited his work across the United States and Korea, as well as in Italy, Germany, and Australia.
For additional information about this exhibit, please visit our information page.