California State Prison Los Angeles County: Progressive Art Program
Exhibition and Silent Auction Foundation Fundraiser
Exhibition dates: April 7 – 18, 2014
Exhibition and Silent Auction Closing Reception:
Thursday, April 17, 7 p.m. – 9 p.m.
Silent Auction bidding closes at 8 p.m.

Jon Grobman, Flowers at Table
California State Prison-Los Angeles County Chaplain Abdul-Wahab Omeira, a coordinator for the CSPLAC Progressive Art Program, has arranged for the donation of a collection of artwork from the program to be sold as a fundraiser for the Antelope Valley College Foundation. Artists in the program have chosen to donate the proceeds of their work toward the AVC Foundation in support of AVC students. The works will be on exhibit at the AVC Art Gallery and open for bidding in a silent auction from April 7-18. The show will culminate with a gallery reception where final bids can be placed and winners announced. For questions on purchasing art in the fundraiser show, call the AVC Foundation at 661-722-3600, Ext. 6391.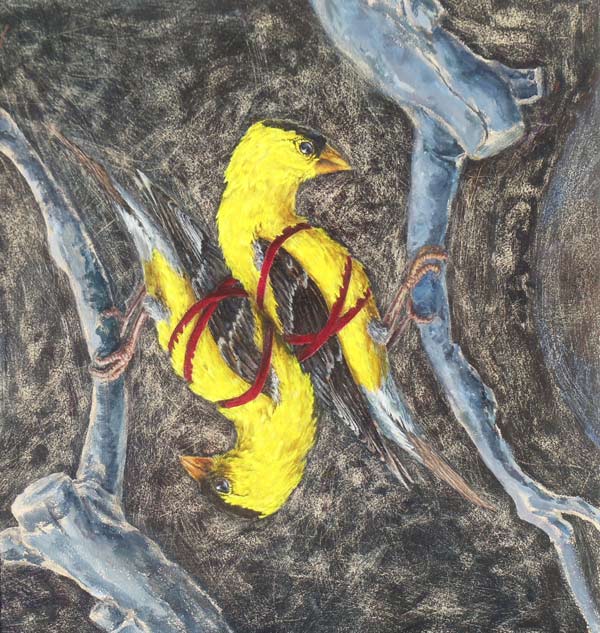 Aaron Michael Mercado, American Goldfinch
The CSPLAC Progressive Art Program is a flagship program of its kind in the state Department of Corrections and Rehabilitation. Artists at CSPLAC continually produce a number of both contemporary and traditional creative works that are donated for philanthropic causes in the AV and beyond, and many have won recognition for their work in area art competitions as well. Chaplain Abdul-Wahab Omeira is a past director of the AVC Foundation Board.
For additional information about this exhibit, please visit our information page.