COLLECTIVE RESIDENTS: New Encaustic Works by Erin Anfinson and Sarah Rowland
Exhibition dates: October 3 – October 26, 2012
Opening Reception: Wednesday, October 3, 7 p.m. – 9 p.m.
Guided Gallery Discussion at 7:15 pm
The Antelope Valley College Art Gallery is proud to present two new bodies of encaustic works by Erin Anfinson and Sarah Rowland in Collective Residents. Employing non-traditional approaches to this wax-based media, the encaustics create a vivid, tactile dialog about interior space, accumulation, and the residue of historical events in one's life.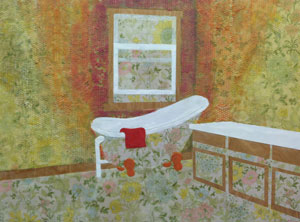 Sarah Rowland- Bath. Encaustic, tissue paper, fabric on panel.
Anfinson's work combines beauty and the grotesque in her playful exploration of a cyclical domestic nuisance: dirty laundry. She describes how "these self-generating piles of soiled garments" represent the "ultimate embodiment of an exercise in futility." Anfinson captures the spontaneously arranged compositions for her encaustics by photographing accumulations of dirty towels, socks and underwear. Despite the constant frustration and annoyance of laundry piles, she found "addressing them every day led to an appreciation for them as an ephemeral documentation of our daily history." Anfinson's mix of processes includes image transfer, encaustic monotype, and drawing. The result is luminous and lyrical, lending her laundry piles both breathing presence and stubborn resilience.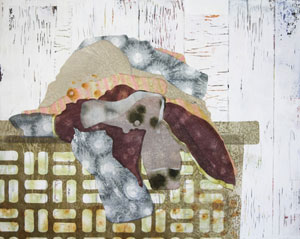 Erin Anfinson- Found Still Life 1. Encaustic & paper on panel.
Rowland's densely layered paintings of sparse interior spaces evoke references to memory and accumulated history left by previous inhabitants. Rowland describes how the routines of home life "allow for our most basic and most sophisticated needs to be tended to, from food and safety to finding meaning and purpose." By uniting its occupants in its structure figuratively and literally, the home's interior walls become "witness to the best, worst and most unconscious actions of generations of different residents." In her paintings of seemingly empty rooms, the walls become the living residents. Its collected histories materialize in the domestic ephemera of pattern, texture, and muted color. To create this, Rowland builds the interiors of her homes using lace, fabric, screenprinting, oil paint and encaustic. Although architecturally bare, everything in these spaces feels prodded and touched, as if we can actually see the residue of wandering fingertips.
Both Anfinson and Rowland use a mix of processes from different disciplines to utilize encaustic's elastic properties. Encaustic combines pigment with a wax binder, which can be melted to create a rich liquid painting medium. Its viscous consistency allows for molten forms that hold collaged materials. The wax can also be poured into a polished smooth surface, which can be incised with a needle tool for fine drawing or even receive printed imagery like paper. Using encaustic's transparent nature and ability to layer, both Anfinson and Rowland bring their variety of approaches into rich combination. More information about these artists may be accessed through their websites: www.erinanfinson.com and www.sarahQrowland.com