Wally Gilbert: Patterns and Recognition
Exhibition dates: February 6 – March 9, 2012
Artist's Reception: Thursday, February 16, 7 p.m. – 9 p.m.
Artist Talk and Catalog signing with Wally Gilbert at 7:30 p.m.
The Antelope Valley College Art Gallery is proud to present a solo exhibition of selected works by Wally Gilbert. Bringing together works from across his oeuvre, this retrospective showcases Mr. Gilbert's breadth as an artist while exploring the creative drives underscoring his work.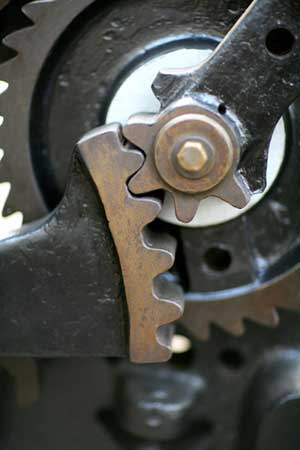 Norblin Gear 3 - Warsaw
Mr. Gilbert's explorations in photography and, more recently, in digital drawing, are often conducted in series, each tackling a specific formal challenge. In addition to exemplifying his delight in color and form, Mr. Gilbert describes his work as a "search for depth beyond the picture plane and for mystery." Throughout his formal investigations persists the idea of the fragment, which is detached, repeated, and restructured into rhythms and patterns.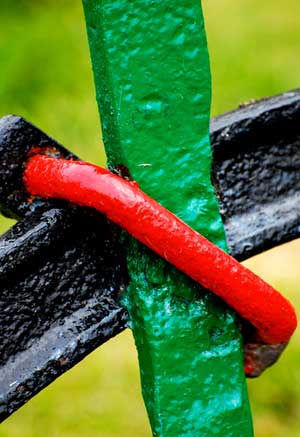 Red Band #2 - Orkney
Mr. Gilbert's images are both organically and geometrically sensuous, hovering between recognizable form and abstraction. In photography, cropped views of architecture and confectionary displays create tension between the sensuous, aberrant details of surface and the manmade attempts at mathematical form. Photographs taken in 2006 at the inactive Norblin factory in Poland similarly compose surprisingly emotional abstractions from close-up images of grease-laden machinery. While his photographs begin with sensual experience and work back to fundamental form, Mr. Gilbert's digital drawings perform the opposite. Beginning with primary visual elements like line and shape, Mr. Gilbert repeats and layers these forms on the computer to build to a vibrant and living skin. By using the fragment both to reference the absent whole and forge new realities, Mr. Gilbert's images question the relationship between concept and experience.
It is difficult to resist comparing Mr. Gilbert's artistic discoveries with his renowned work in science and mathematics. A professor of theoretical physics at Harvard University and practicing molecular biologist, he was awarded the 1980 Nobel Prize in chemistry for discovering a rapid DNA sequencing method. Although working in seemingly divergent fields, Mr. Gilbert sees his innovations linked by a connective drive: "Over the years that I was active in science, I saw a great commonality in the creative impulse - in the artist's impulse and the scientist's - that overrides this issue of who's using numbers and who isn't." Located between Edwards Airforce Base and the arts metropolis of Los Angeles, Antelope Valley College is particularly honored to showcase an artist whose complex career speaks to its community.