Guardian Scholars Foster Youth Program
The Guardian Scholars Program aims to connect current and former foster youth with a support system to help develop the tools needed to succeed in, through, and beyond college. AVC Guardian Scholars works to:
Encourage students to participate in interesting and/or beneficial activities, events, or programs

Support students concerning academic, personal, mental, and/or emotional well-being

Provide enriching activities and create a scholarly community that supports success
HOW TO APPLY TO THE
AVC GUARDIAN SCHOLAR PROGRAM
Current Students-
Apply and Opt-In to the Guardian Scholars Program HERE!
Attend Orientation
New Students-
Complete the AVC Admissions Application Process at https://www.avc.edu/studentservices/adminrec/applyonline
We are currently accepting applications for Fall 2023
Make sure you have applied for Financial Aid and the Chaffee Grant https://www.csac.ca.gov/
Financial Aid Zoom Counter for assistance- (Guardian Scholar Financial Aid Representative Kendra Doss)

avc.zoom.us Meeting ID: 929 7584 4980

Mon-Thurs 8am – 5pm & Fri 7:30 am – 11:30 am
Apply and OPT-IN to the Guardian Scholars Program HERE!
Attend Guardian Scholar Orientation.
Additional Questions: Ty Steans (Guardian Scholars Program Specialist)
Mon-Thur 7:30am-6:00pm
Email: Tsteans@avc.edu or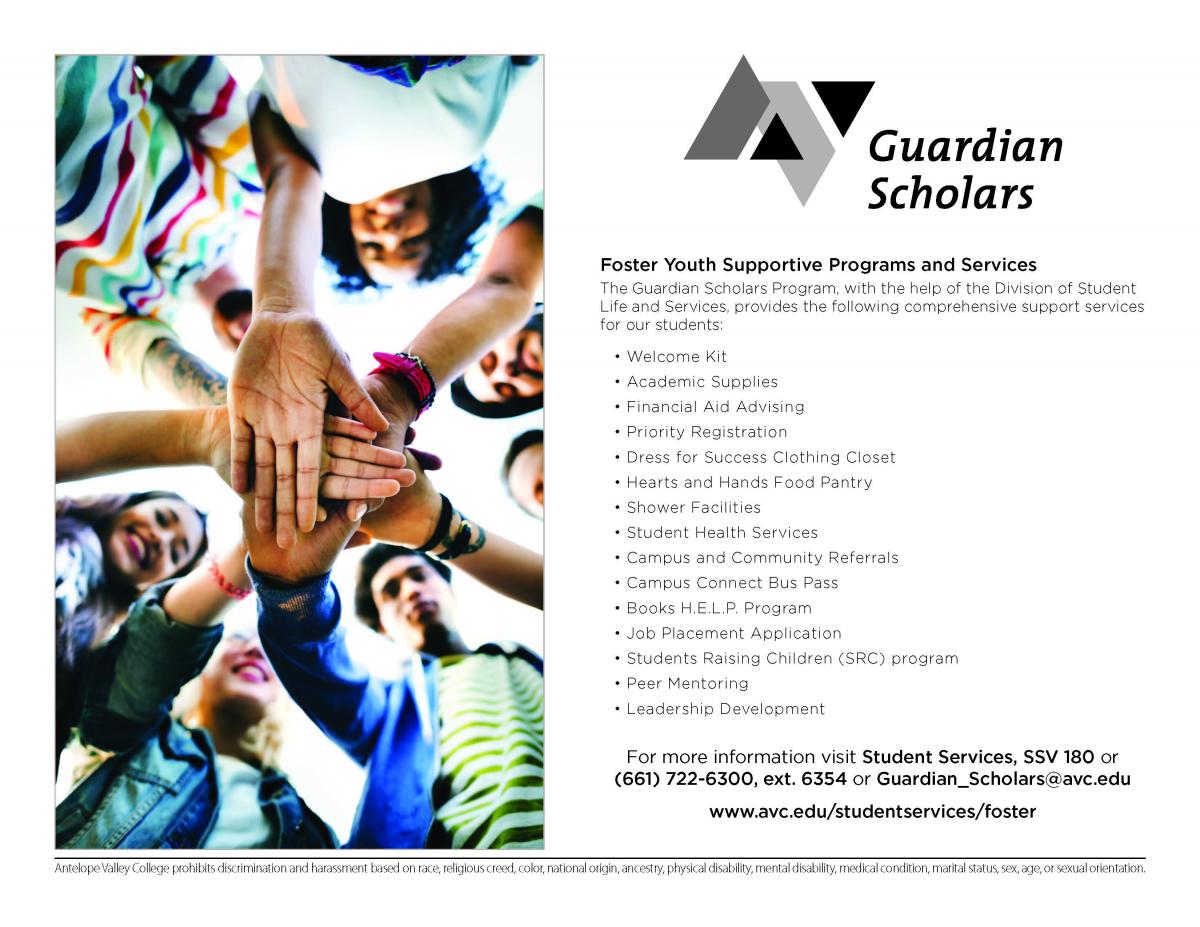 (Opt-In: the fact that you do not have, receive, or join in something unless you choose to, or something that you do not have or receive unless you choose it)