Airframe Manufacturing Technology Program Now Accepting Applications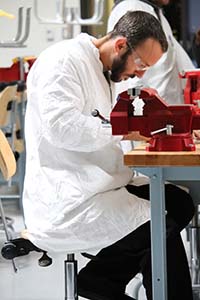 The Airframe Manufacturing Technology Program Application Packet is now available on the AVC Airframe Manufacturing Technology webpage. Enrollment packets will be accepted beginning today, April 28, 2016. The deadline is May 26, 2016.
AVC's Airframe Manufacturing Technology Program (AFMT) is designed to meet the need in the aerospace industry for multi-skilled individuals who understand, perform, and serve as first-line leads in the major processes of manufacturing the structural components of an aircraft for civilian and military specifications. The program's curriculum addresses airframe manufacturing, aircraft fabrication (structures and composites), electronics, and welding.
The AFMT program is geared for students who have completed a two-year program in Aircraft Fabrication and Assembly, who are interested in pursuing a bachelor's degree in Aircraft Manufacturing Technology. Students will enter directly as juniors (3rd Year students).
To keep up to date on program updates, please visit on the AVC Airframe Manufacturing Technology webpage often for program updates.