AVC Fire Crew Gets Hands-On Experience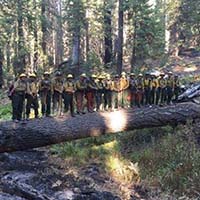 When the Inyo National Forest required additional staffing, they placed a call to AVC. College Wildland Fire faculty supplied 15-16 student workers that are trained and certified Wildland Firefighters to meet up with fire line leadership. Over a two-week period, they operated as a certified wildland fire hand crew. The crew is a joint venture through a Memorandum of Understanding (MOU) and is classified as a Type 2 IA hand crew.
"The AVC hand crew is one of if not the only college-based hand crews to attain the Initial Attack (IA) status. This IA status allows us to operate in a wider variety of fire assignments, often they are more technical and more dangerous," says AVC Fire Technology faculty Michael Hutchison.
The AVC fire crew is available as a national resource. When working, they work 12-16 hours a day for two weeks periods. In the summer of 2015, the crew had six assignments totaling about 1,500 hours of fuel treatment and fire suppression work. When on assignment hand crews perform all the same duties and assignments as agency hand crews including fire line construction, burn out operations, holding, mop up, felling hazard trees, scouting fire line, acting as lookouts, cultural resource protection and burned area rehabilitation.
This MOU is designed with the intent for students to obtain real world working experience as a wildland fire hand crew, with the ultimate intent of placing students into positions for Federal, State, and Local Fire fighting agencies. In the last two years, AVC fire crew has placed 32 students into positions all over the western United States. The next Wildland Fire Academy starts in June with an information session on April 29. For additional information, contact Michael Hutchison at mhutchison@avc.edu or (661) 722-6300, ext. 6712.