Spring 2016 AVC Foundation Grants for Faculty & Staff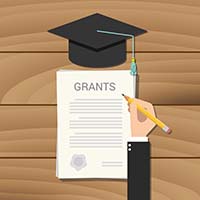 The AVC Foundation Grants program assists AVC campus entities with awards for activities or purchases that may not receive funds from the college or district budget. Grants are supported by the AVC Foundation general fund ("AVC Fund"), including Employee Giving and President's Circle donors, as well as direct donor contributions to the Foundation Grants Program. Multiple grants will be awarded from $7,500 available each semester.
Grants will be awarded for activities and purchases that directly support faculty, staff and students, for the betterment of Antelope Valley College and its educational mission. The AVC Foundation will need information on how your proposal provides that support, how you will spend the funds, past and future funding of this or similar activities, and cooperation between your area and the Foundation. A Foundation Grants Review Committee will review applications. Questions may be directed to the Foundation Office, at ext. 6598. The application deadline is March 11.