GAVEA is Now on Campus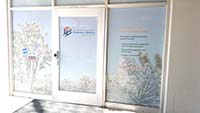 Did you know that the Greater Antelope Valley Economic Alliance (GAVEA) is now located on the AVC campus? They are located in SCT, just outside the cafeteria. GAVEA is the public/private partnership that facilitates business growth and opportunity within 3000 square-mile region of the greater Antelope Valley.
GAVEA occupies offices previously used by the LASD. Students looking for LASD, security, and lost & found can now find them in their expanded offices, T800, located near the gym and tennis courts.