AVC Faculty Featured in Art Exhibition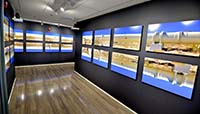 Painting instructor Christine Mugnolo and Language Arts instructor Charles Hood will be featured in the art exhibition "Green Revolution," opening Saturday at the Museum of Art and History (MOAH), in Lancaster.
Christine's work features a series of water color panels that tell the story of water in California. Joined together like panels of a Medieval map, her works tilts California on its side, to challenge the inevitability that all the water from Northern California naturally would drain down through aqueducts to Southern California.
Charles Hood uses photography to also ask questions about ownership and inevitability. His photo series about the L.A. Aqueducts doubles this 12' diameter lifeline. The top images show it right-side-up, but a bottom row inverts the pipe, so that the sky becomes a hidden river flowing underneath it. In a text panel he points out how much water flows through the Antelope Valley without a drop of it being made available for local use.
A soundscape of household water sounds accompanies this installation, designed by AVC student David Jackson.
The exhibition features an international list of artists. A reception on Saturday, February 20, 2016, from 4 to 6 p.m.