AVC Theatre Arts Original One-Act Festival Contest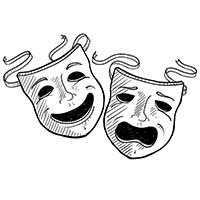 The Antelope Valley College Theatre Arts department announces the Original One-Act Festival contest is now open to all students and staff at the college. The script deadline is Monday, February 29.
Scripts must be from 2-10 minutes in length, in standard play format, PDF and without the playwright's name. They must be received at ccorona2@avc.edu by 11:59 p.m. February 29. The playwright's name and contact information must be sent in a separate e-mail with the title of the play as the subject line.
"The AVC Theatre Arts instructors look forward to reading the entries from all of AVC. Several of these new or experienced theatrical voices will experience the transformation from their written word to live performance in the annual Festival in May," wrote Theatre Arts instructor Eugenie Trow.
The selected one-act plays will have workshop productions in the AVC Black Box Theatre May 19-22, 2016. For more information, please contact the Eugenie Trow at etrow@avc.edu or (661) 492-1659.