Parking and Traffic on Campus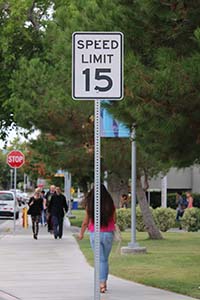 With the return of students to campus for spring semester, please remember provisions of the California Vehicle Code are enforced 24 hours a day, seven days a week. Maximum speed limits for roadways are as posted. The speed limit in all campus parking lots is 10 MPH.
Handicapped parking (including the misuse of handicap placards), staff parking and red zone violations are enforced are enforced 24 hours a day, seven days a week, year around. After the second week of the spring semester, general parking permits are required Monday through Friday, 8 am to midnight, 8 am to 4 pm on Saturdays. No permits are required on Sundays.
Semester permits are purchased at the Cashier's office located in the Student Services building. Semester permits are valid from the time of purchase until midnight on the last day of the semester. Daily permits can be purchased at the permit dispenser machines located along the walkways of the campus. Please be sure to place your permit as instructed (semester passes hang from the rear view mirror and daily permits should be placed on your dashboard in the lower corner of the passenger side). If the parking permit is obscured from clear view, the vehicle may be cited.
A limited amount of visitor parking is available in lot 8 (across from SSV) and is limited to 30 minutes.
Traffic is always heavy the first weeks of the semester, and parking on the south end of campus quickly. Students are encouraged to enter campus from Avenue J-8 and utilize north parking lots (13, 14, 15 & 16) at peak times. Please drive safely, plan extra time to find parking and have an excellent semester.