No Parking or Passenger Unloading in Red Zones or Campus Roadways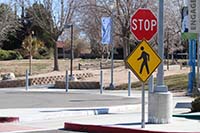 AVC reminds staff, students and visitors that there is no parking, passenger loading or passenger unloading in red zones or campus roadways. Vehicles stopped at red zones curbs or in campus roadways may be cited by LASD.
Passenger loading and unloading on red zone curbs blocks traffic on campus and creates a hazard for emergency vehicles and pedestrians crossing into parking lots. Drivers are encouraged to use general parking spaces or the turn around between SSV and Administration for passenger loading and unloading. Visitor parking is available in lot 8 (across from SSV) and is limited to 30 minutes. Please help keep traffic moving and our community safe!