AVC Announces Spring Performing Arts Theatre Line-up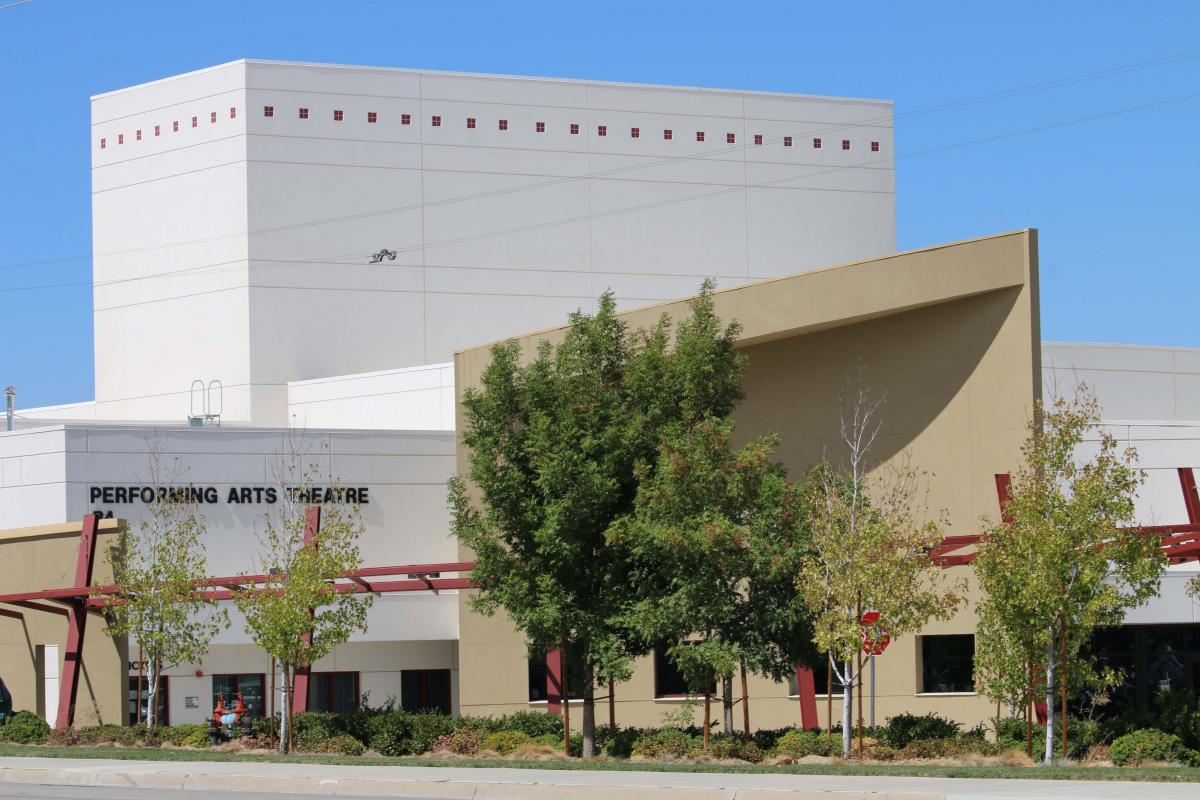 The second half of our 2015-16 performance season is underway at the Antelope Valley College Performing Arts Theatre (AVC PAT), with a full line-up of events sure to please audiences across the Antelope Valley. A wide variety of events is scheduled: concerts featuring stirring orchestral classics and contemporary rock and jazz; modern and ballroom dance performances sure to get toes tapping, and theatre productions and festivals for all ages. Not to mention cultural and fashion showcases, recitals and community workshops – many of which are free to the public. Come and experience the diversity and excitement of the performing arts at AVC.
The theatre is located on the south side of the Antelope Valley College Lancaster campus, 3041 W. Ave. K. Box office hours are noon to 4 p.m. Wednesday and Thursday. View our full event schedule and purchase tickets online at tickets.avc.edu, or contact the box office at (661) 722-6300, ext. 6580.
Events that will take place at the AVC PAT from now through the end of June:
AVC Black Student Union presents Message In A Garment, Feb. 13, 2016 at 2 pm – AVC Black Student Union presents an afternoon of live music, dance and poetry. This performance is sponsored by AVC Student Equity and Natural Impact. Admission: $10/$7.
Dancing With The A.V. Stars – All-Star Cast, Feb. 20, 2016 at 7 pm – A dance extravaganza! A special night featuring 10 previous local Antelope Valley celebrities (past winners and contestants from four Dancing With the AV Stars shows) as they take the stage and dance with professional ballroom dance partners. These talented local celebrities will go head to head to vie for the prestigious title "Dancing with the AV Stars – All Star". There will be special dance performances and guest performers. Dancing with the AV Stars will showcase the varied dance styles of ballroom, salsa, Latin, and West Coast Swing. This event is a fundraiser for USA Dance AV Chapter, a non-profit dance organization that promotes health through partner dancing to fight childhood obesity. USA Dance AV Chapter is the national model for the Dance Force Youth Ballroom Program and sponsors the High Desert Dance Classic at AV College on March 11-13, 2016. Admission: $37/$27/$17.
Caravan Dance Studio presents Cinderella, Feb. 27, 2016 at 4 & 7 pm – It's a familiar story, with a Rockabilly twist! Set in the late 1950s, Cindy runs the household while her stepmother and stepsisters spend their days maintaining their appearances and making Cindy's life difficult. When they receive an invitation to the town's annual sock hop, Cindy decides to attend. With the help of her fairy godmother, she is transformed and goes to the sock hop where she meets the Mayor's son, Johnny. Johnny finds Cindy's disposition a refreshing change. In the end, Cindy rescues him from women who are only interested in his money and social status and escapes a family who does not appreciate her. And yes, they live happily ever after! Admission: $16/$11/Children 2 & under free.
AVC Jazz Festival, March 12, 2016 at 7 pm – The festival will include clinics, workshops, jam sessions, and auditions in various venues across campus for talented high school musicians, culminating at the end of the event with a master concert of some of the best performances of the day. Join us as area high school students strive for their goals as professional musicians. Admission: Free.
AVC Symphonic Band, Music By Women, March 19, 2016 at 7 pm – Join us in celebrating National Women's History Month with music by such esteemed composers as Joan Tower, Alex Shapiro, Shelly Hanson, and Deon Nielsen Price. Admission: $10/$5.
Antelope Valley Symphony Orchestra, Stars of Tomorrow, March 26, 2016 at 8 pm – The winners of AVSOMC's 2016 Gail Newby Concerto Competition join the orchestra. 2016 Bach Competition winners perform a prelude recital at 7 p.m. Admission: $20/$18/$10.
Dance Dimensions 2016, April 15 & 16, 2016 at 7 pm – Join Dance Dimensions in exploring invigorating concepts through the ever-powerful and cathartic expression of dance. Dance Dimensions' performance will incorporate the many worlds of dance to typify the cross-cultural symbolism through modern/contemporary dance, hip-hop, ballet, tap, and even social dance. Admission: $18/$15.
Shakespeare's Birthday Celebration, April 26, 2016 at 7 pm – Celebrate Shakespeare's 452nd birthday with scenes, sonnets and monologues from the funniest and most moving movements in his work. Be prepared for the unexpected – it's a Shakespeare shake up! Admission: Free.
AVC Theatre Arts, The Goldilocks Effect, May 7 & 8, 2016 at 2 pm – Goldilocks must help Baby Bear find a new home, but nowhere feels just right. One climate is too dry. Another is too warm. It is up to our heroes to find out how to make a home that is "just right". Devised by Jeffrey Wienckowski. Admission: $5.
AVC Symphonic Band, Hooray For Hollywood Pops Concert, May 14, 2016 at 7 pm – The Symphonic Band is excited to perform a program of popular and patriotic music with something for everyone! Admission: $10/$5.
Applied Music Recital, May 17, 2016 at 7 pm – AVC music majors present an evening of solo performances featuring piano, guitar, voice, strings, winds and percussion. Admission: $10/$5.
AVC Spring Fashion Show, May 18, 2016 at 6 pm – The Antelope Valley College Clothing and Textiles – Fashion Design Program presents their annual spring fashion show, featuring garments designed, constructed and modeled by program students and graduates. Door prizes will be awarded throughout the show. Admission: Free.
AVC Theatre Arts, 19th Original One-Act Play Festival, AVC Black Box Theatre, May 19, 20 & 21, 2016 at 8 pm, May 22, 2016 at 2 pm – The festival offers new theatrical voices the opportunity to see their work onstage. Theatre Arts students and faculty work together to design, direct, work as crew and act in order to bring the words in the scripts to life. World premieres! Admission: $5.
Antelope Valley Symphony Orchestra and Master Chorale, Ode To Joy, May 21, 2016 at 8 pm – The Antelope Valley Symphony Orchestra, Antelope Valley Master Chorale and Antelope Valley College Concert Choir join forces to present Beethoven's powerful Symphony No. 9 in D Minor, Op. 123. Beethoven's inclusion of choir in his final symphony helped establish it as a unique masterwork. Based on Friederich Schiller's An die Freude, the symphony is a universal acclamation of brotherhood. Admission: $20/$18/$10.
AVC Theatre Arts, A Night At The AVC Improv, AVC Black Box Theatre, May 23, 2016 at 7 pm – Taking suggestions from audience members, the quick wit and creative imagination of the AVC Improv players creates a wonderful, off-the-cuff night of comedy that leaves everyone in the house laughing. Admission: $5.
AVC Dance Final Showings, May 24 & 25, 2016 at 7 pm – A showcase production of some of the best work by students in Dance Department classes. Selected by their instructors, students present a variety of dances they have worked on during the semester to experience dance as a performance art and to complete their final grade. Admission: $10/$5.
AVC Jazz Ensemble, May 27, 2016 at 8 pm – Semester recital for the Beginning Jazz Band, Jazz Band, Jazz Improvisation and Advanced Jazz Ensemble. Admission: $10/$5.
Stage Voice Recital, Tina Herbeck, Instructor, May 31, 2016 at 7 pm – Students from Tina Herbeck's Stage Voice classes present their semester final recitals. Admission: Free.
Voice Recitals, Jinyoung Jang, Instructor, June 1, 2016 at 5 & 7 pm – Students from Jinyoung Jang's Voice classes present their semester final recitals. Admission: Free.
Test Flight, AVC Black Box Theatre, June 4, 2016 at 7 pm – Each semester, this popular music performance class for singers and instrumentalists presents a concert of music from various decades. Join them for an evening of electrifying performances of well-known rock songs. Admission: $5.
For more information, please contact the Chester McCurry, AVC PAT Manager, at cmccurry@avc.edu or (661)722-6300, ext. 6949.