AVC Works to Meet Student Demand for Spring Classes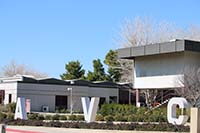 Spring semester starts February 8 and AVC is working hard to meet the demand of students. The college still has seats available in many programs such as Business and Computer Studies, Career and Technical Training, Visual and Perming Arts, World Languages and more.
Students still looking for a spring semester class are encouraged to check the online schedule often for openings and waitlist spots. "Student plans change and openings often come available in popular classes. A class that was closed yesterday, may have a few waitlist spots today," said Liz Diachun, Executive Director of Marketing and Public Information for AVC.
Additionally, AVC is working to meet student demand with late additions to the schedule. Recent additions include a Palmdale section of Math 115, Statistics, and Saturday sections of Intro to Administration of Justice and Intro to Sociology.