Former AVC Trustee Dies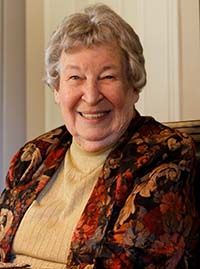 Betty Lou Nash, former AVC employee and trustee, has passed away at the age of 92.
Nash was born in Bemidji, Minnesota on February 1, 1924. Betty Lou put herself through college by working first as a clerk at a drug store and later as an assistant at a newspaper. Betty Lou graduated with honors from the University of Minnesota with a degree in journalism. While working at a newspaper, Betty Lou met Max H. Nash, a decorated World War II veteran. Betty Lou and Max were married on March 29, 1948 and shortly thereafter the newlyweds left their families and friends in search of a better life in sunny Southern California. Betty Lou and Max journeyed across the United States in a Nash Rambler towing a small trailer that was their home.
In 1950, Betty Lou and Max purchased a home and land in Antelope Acres where Max built and operated a small chicken ranch and where all three of their children were born. Ultimately, Max and Betty Lou built a home in Lancaster where Max developed a successful career as a real estate broker and land dealer.
In addition to raising three active children, taking care of her husband and maintaining their home, Mrs. Nash worked as a journalist for a local newspaper, and was the Director of Student Activities/Public Relations for Antelope Valley College from 1977-1989. Betty Lou was appointed Commissioner on the Lancaster Parks, Recreation and Arts Commission and served in that capacity from 1984 to 1988. Mrs. Nash was elected to three terms as Trustee, including serving one term as President, on the Antelope Valley College Board of Trustees from 1989-2000.
Never idle, Betty Lou spent a lifetime enjoying and promoting the performing arts. Mrs. Nash served as President of the Antelope Valley Symphony Association and as President of the Antelope Valley Arts Council from 1991-1994. Mrs. Nash was instrumental in generating interest in and the funding for the Lancaster Performing Arts Center that opened in 1991. The grand piano donated by Betty Lou and Max still graces the stage today. Recognition for Betty Lou's service to the community includes the Antelope Valley College Achievement Award for College Service in 2004 and the first ever Lancaster Lifetime Arts Achievement Award in 1997.
There will be a private, family celebration of life. Donations in honor of Betty Lou Nash may be made to Antelope Valley College Foundation, Betty Lou Nash Performing Arts Endowment.