AVC Art Gallery Will Hold Exhibition Reception Wednesday, March 9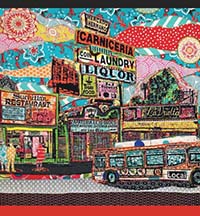 Los Angeles is a complicated network of neighborhoods, streets, alleys and freeways. Enthralled by the vibrant sights and sounds of the Los Angeles signage, architecture and iconography, Jasmine Delgado acts as a visual historian to document the strip malls, liquor stores, carnicería and machine shops that fill the landscape and provide colorful components of a complex metropolis constantly in flux. Ever since Delgado pulled her first print at a local community college in 1993, she's been a diehard printmaker. Inspired by the generosity of working in multiples, her work evolved to include the language of spray paint, stencil and fabric to illustrate the impermanence of the LA urban landscape.
Jasmine Delgado: Mapping Los Angeles
February 24 – March 25, 2016
Reception: Wednesday, March 9, 7–8:30 P.M.