Paraclete and Pete Knight H.S. Teams Among Winners at Math Field Day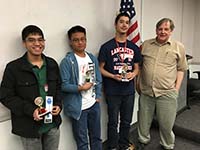 Top math students from 13 area high schools spent 90 minutes last Friday morning working through a series of written problems devised by Antelope Valley College math faculty members.In addition to the test, Northrop Grumman engineers Melissa Ebert, Garrett Pursley and Jeffrey Ward spoke to the students. More than 60 participated in this year's event.
When the 36th annual Mathematics Field Day was over, students from Paraclete and Pete Knight high schools walked away with bragging rights for having the winning team scores in their respective categories. Retiring professor, Dr. Richard Sieger, has designed the last 28 annual tests of mathematics knowledge.
A team from Pete Knight High School consisting of Justin Javier, Christopher DeLeon and Diamond Luong took the top spot in the junior-senior competition of the Leibnitz League for large schools. Javier also captured third place individual honors.
Paraclete High School student Edrick Sabalburo took home second place individual honors, helping his team to a first place finish in the small schools junior-senior competition with teammates Aaron Erickson and Jack Ringelberg.
Taking first place individual honors was Richard Jacobi of Lancaster High School. Jacobi had an overall score of 70.
Finishing second in the junior-senior competition were the Quartz Hill team of Olivia Neely, Kayleigh Kaveney and Isabel Vanderzee representing large schools and Richard Garcia, Christopher Durr and Tammy Le representing Soar High School in the small school category.
In the Leap Frog Relay for freshmen and sophomores, Pete Knight's Dimas Molina and Allen Nero finished first among large schools. Highland's team of Gabriel Gonzales and Michael Buek finished second.
Paraclete High School's team of Vita Zhang and Edrick Sabalburo won first place among small schools in the Leap Frog Relay, Desert High School's team of Ariel Fernandez and James Sunga finished second.
The Leap Frog Relay derives its name from the way in which team members are allowed to switch papers to resolve math problems.
Pictured: Individual Winners Edrick Sabalburo, Justin Javier, and Richard Jacobi with AVC test designer Dr. Richard Sieger