Invitation to AVC Symphonic Band Concert & Women in Music Conference Event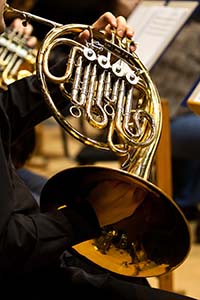 Students, staff and members of the AVC community are invited to the upcoming concert by the Antelope Valley College Symphonic Band on Saturday, March 19th at 7 pm in the Performing Arts Theatre.
Titled "Music by Women", the program will include exciting and moving concert band works by such well known composers as Alex Shapiro, Shelly Hanson, and Julie Giroux. Guest conductor, Dr. Jermie Arnold, Associate Director of Bands at CSU, Long Beach will direct music composed by Dr. Carolyn Bremer, Chair of the Bob Cole Conservatory of Music at CSULB, along with the world premier of "Oneness Clarinet Concerto Movement" by Dr. Deon Nielsen Price featuring Dr. Berkeley Price as clarinet soloist. Also on the concert will be the Concertino for Flute and Piano by Cecile Chaminade performed by Magenta Money, a student at Quartz Hill High School, and Mary Zimmerman, AVC staff accompanist.
Faculty receive two hours of Professional Development, Standard Two for attending the concert.
General admission tickets for the concert are $10 with $5 tickets available for Senior, Military, AVC employees, and Students of any age with ID. Tickets are available online at tickets.avc.edu, by phone at 661-722-6580, or at the PA Theatre box office.
In addition to the Band Concert, a special "Women in Music Conference" will take place throughout the day on March 19th that will feature presentations, workshops, panels, and a Recital by saxophonist Chika Inoue and pianist Mary Au. The Conference will be held in the Recital Hall of the Music building (FA3 162) beginning at 10:00am and is free and open to the public.