AVC Foundation Scholarships Totaling $211,400 Awarded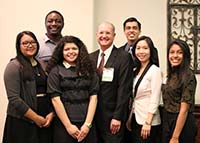 The Antelope Valley College Foundation has awarded 242 scholarships totaling $211,400. Scholarships were awarded this year to 195 students - some receiving multiple awards. The AVC Foundation, as well as community organizations and individuals, offer scholarships yearly based upon financial need and academic merit.
Scholarships have certain requirements including major, class level, or even graduation from a particular high school. Scholarships are awarded to incoming, continuing and transferring students. Generally, a student must have at least a 2.00 GPA. Scholarships are awarded only once each academic year.
"It is through the generosity of our many donors – individuals, businesses and community groups – that we are able to support the continued education of our students," said Dianne Knippel, AVC Foundation Executive Director. "This investment in education ensures the strength of our workforce, the cultivation of future leaders, and the health and well being of our local, national and global community."