Antelope Valley College to Host Internationally-Acclaimed Poet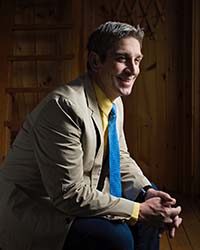 Antelope Valley College will host poet Richard Blanco on Tuesday, November 8. Students, faculty, staff and the community are invited to a free poetry reading at 7 pm in the AVC Choral Room (FA3 162). The performance, sponsored by AVC Student Equity, will be followed by a Q&A with Blanco.
Richard Blanco is the fifth inaugural poet in U.S. history—the youngest, first Latino, immigrant, and gay person to serve in such a role. Born in Madrid to Cuban exiled parents and raised in Miami, the negotiation of cultural identity and place characterize his body of work. He is the author of the memoirs The Prince of Los Cocuyos: A Miami Childhood and For All of Us, One Today: An Inaugural Poet's Journey; the poetry chapbooks Matters of the Sea, One Today, and Boston Strong; the poetry collections Looking for the Gulf Motel, Directions to the Beach of the Dead, and City of a Hundred Fires; and a children's book of his inaugural poem, "One Today," illustrated by Dav Pilkey. With Ruth Behar, he recently co-created Bridges to/from Cuba: Lifting the Emotional Embargo, a blog providing a cultural and artistic platform for sharing the real lives and complex emotional histories of thousands of Cubans across the globe. Blanco's many honors include the Agnes Starrett Poetry Prize from the University of Pittsburgh Press, the Beyond Margins Award from the PEN American Center, the Paterson Poetry Prize, a Lambda Literary Award, and two Maine Literary Awards. The Academy of American Poets named him its first Education Ambassador in 2015. He has been featured on CBS Sunday Morning and NPR's Fresh Air. He has been a Woodrow Wilson Visiting Fellow and received honorary doctorates from Macalester College, Colby College, and the University of Rhode Island. He has continued to write occasional poems for organizations and events such as the re-opening of the U.S. embassy in Havana. Blanco shares his time between Bethel, ME and Boston, MA.
For additional information, please contact Professor Charles Hood (661) 722-6300 x6472, chood@avc.edu