Annual Transfer Fair to Happen Next Week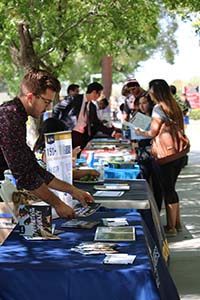 The annual Transfer fair will be held Tuesday, September 20 starting at 10 a.m. in the Fine Arts Quad. Meet outreach & admissions representatives from 38 CSUs, UCs, private and out of state universities and institutions. Representatives from Historically Black Colleges & Universities (HBCUs) will also be present to discuss guarantee transfer agreements.
Learn transfer requirements, criteria, information regarding financial aid, special student services, and much more. Drawings for prizes and free food for student participants will take place.
To celebrate transfer day, faculty, staff and students are invite to wear your Alma Mater or favorite college gear on this day. Caps, pins, shirts, jackets, hats, whatever you like. Take this day to show your other school pride, and visit us at the Fine Arts Quad. See you there!!