AVSO Strings Academy to Provide Free Music Instruction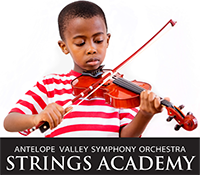 Antelope Valley Symphony Orchestra (AVSO) musicians and Antelope Valley College are offering free music instruction through the new AVSO Strings Academy. This El Sistema inspired program will offer string instrument instruction free of charge to local students ages 6 and up in violin, viola, cello and string bass. Instruction includes lessons, music and instrument rental. Instruction will be offered three times per week for up to 50 students.
This program is grant funded by Los Angeles County Supervisor's office, Fifth District to advance arts education throughout the Los Angeles County, with particular attention to its underserved public schools, offering scholarship and performance opportunities for young musicians, and enhancing the arts environment for audience members of the Antelope Valley.
Sign ups will be held on the AVC Lancaster campus, building FA3 on Tuesday, April 25 from 2 to 5 p.m. Both student and parent must attend. For additional information, please contact David Newby, dnewby@avc.edu or 661-722-6300, ext. 6383.