AVC Foundation Wine Walk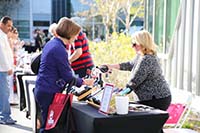 The Foundation's First Annual Wine Walk last Saturday provided guests with a beautiful evening filled with wine tastings, nursing wing and virtual science lab tours, a mystery wine pull, silent auction, live music, delicious food, and great company.
Not only was the event an enjoyable experience for our community, but it was also a tremendous success. The Foundation was able to raise $25,000 to establish the new Antelope Valley Community Students' Endowment! This new endowment will support programs dedicated to student success through a grant process.
The Foundation would like to thank all of those who attended the event, and for those who couldn't make it, we hope to see you next year. They are also grateful to all of those who supported this event and contributed to its success. The AVC catering staff provided the delicious food that guests were raving about all night, Jose and Brianna from Facilities made sure everything was set up perfectly, Dr. Les Uhazy provided a tour of the nursing wing, and Dr. Mark McGovern showed an exciting demonstration in the Virtual Science Lab. Our sponsors also contributed greatly to our success and a full listing of the sponsors can be viewed at www.avc.edu/winewalk.
To view the entire photo gallery, go to https://thevintagepoppy.smugmug.com/Client-Pages/AVCF-Wine-Walk/ and in the password is AVC in all uppercase. Please feel free to download your favorites and share. #AVCwinewalk.