AVC Commencement 2017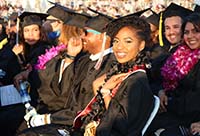 This year, the college conferred a total of 2,690 degrees and certificates. This included 922 Associate in Arts, 532 Associate in Science, 565 Associate Degree for Transfer (AA-T and AS-T), and 672 certificates. The unduplicated number of graduates is 1,548 students. This is the total of all students who have applied for graduation for fall '16, spring '17 or summer '17.
Twenty-three students graduated with a 4.0. 494 students graduated with honors (Cum Laude, Magna Cum Laude, Summa Cum Laude). SOAR High School graduated 91 students this year with 39 receiving degrees from AVC.