Antelope Valley College to Host Eyes of Freedom Memorial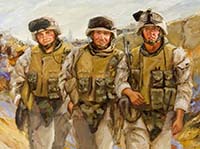 Antelope Valley College will host the Eyes of Freedom Memorial in the AVC Art Gallery (FA1), March 20-24. Gallery hours are Monday–Thursday, 9 am–9 pm and Friday 9 am – 2 pm. The event, sponsored by AVC Student Equity, is free and open to the public.
An opening reception will be held Monday, March 20 at 6 p.m. Parking for the reception will be available in Lots 5 & 6 off of Avenue K.
This traveling memorial depicts the fallen Marines and Navy Corpsman of Columbus, OH based Lima Company 3/25, one of the most heavily engaged units of Operation Iraqi Freedom. These 23 life-sized portraits have become a powerful traveling veterans tribute honoring "All Who Answer Our Nation's Call; Then, Now, and Tomorrow."