Visiting Fulbright Scholar to Speak at AVC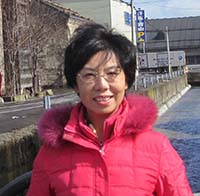 Antelope Valley College is proud to host Chinese scholar and expert in rhetoric and composition Dr. Donghong Liu, who will be speaking at the Lancaster campus March 9, 2017. Her topic will be "Chinese Students versus American Students: What Each Can Learn from the Other."
Presently teaching this year at Purdue University, Dr. Liu will join Professor Charles Hood and Professor Santi Tafarella in considering the metaphors that education rests on, including the idea of "Student as Customer." The panel would like to offer alternatives to this idea in order to better help students clarify their goals and learn about new pathways to success.
Dr. Liu has extensive publications in writing, language acquisition, and narrative theory, and has spoken at conferences and panels around the world. Her visit to Antelope Valley College is sponsored in part by the Fulbright Visiting Scholar Program through the U.S. State Department.
The event starts at 7 pm in the Board Room, SSV 151, and is free and open to all.
For more information, please contact Charles Hood, (661) 722-6300, x 6472.