Phi Theta Kappa Recognizes Two AVC Students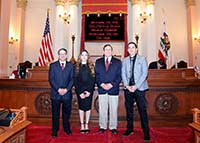 AVC Honors organization Phi Theta Kappa students attended a luncheon in Sacramento last week. AVC students Stephanie Aceves and Samir Al Salek were recognized by Phi Theta Kappa for their academic and leadership achievements at AVC. They were among 93 other students from 113 California Community Colleges to receive this prestigious award.
Additionally, the students and the college were recognized by Senator Scott Wilk on the floor of the Senate. Former AVC alumni Nathan Skadsen and Shanna Ezzell work for California Assembly Members and were present during the recognition. Pictured (L to R): Professor John Vento, Aceves, Wilk and Al Salek.