AED Units Deployed on the Main Campus and Fox Field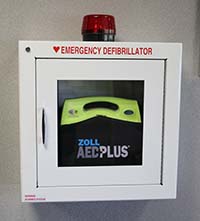 Automated External Defibrillators (AED) have been installed at the following locations around the AVC campus:
•HS 1st Floor – Near Subway
•TE-7 - On wall across the hallway from TE-135.
•Gym - Inside northwest corner of Gym on north side of back-board.
• T-800
•Library - Near Circulation Desk on south wall.
•IMC - Near fire extinguisher in "waiting area" on west side of copy machine.
•SSV - Outside SSV-117.
•PAT - Beside fire extinguisher on north side of front (east) main entrance/exit doors.
•ADMIN - Near fire extinguisher outside east wall of Break Room A-138.
•Fox Field 1st unit - In the classroom on the east wall beside the Instructor's desk.
•Fox Field 2nd unit - In the B-11 hangar on the outside of the west.
•APL - Ground floor beside main lobby elevator (on south side of elevator recess).
•CDC - Entrance hallway.
The cabinets are not locked but are alarmed so that if opened, an audible alarm sounds and a strobe light functions to let people in the surrounding area know that an AED has been accessed. The AED units are very user friendly, providing voice prompts telling the user what to do.