AVC Foundation 2017 Spring Grant Awardees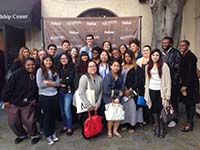 This spring, the Foundation awarded nearly $8,300 in grant funds. Our grants program assists AVC campus entities with awards for activities or purchases that may not receive funds from the college or district budget. Grants are supported by the AVC Foundation general fund (AVC Fund) including Employee Giving and President's Circle donors as well as direct donor contributions to the Foundation Grants Program. Multiple grants will be awarded each semester.
To view the awardees and more information on Foundation Grants, please visit https://www.avc.edu/foundationgrants.