AVC Theatre Arts Department Performs "Frankenstein"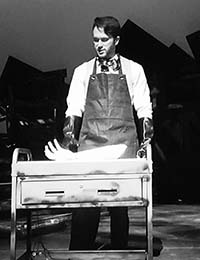 The Antelope Valley College Theatre Arts Department's production of Mary Shelley's Frankenstein opens on Friday, November 3 at 8 p.m. at the Antelope Valley College's Performing Arts Theatre, with additional performances November 4, 10 and 11 at 8 p.m., and at 2 p.m. on Sunday, November 12.
In this adaptation by Austin Tichenor, Victor Frankenstein suffers the unintended consequences of his technological achievements as he learns to fear his own creation. By stitching together, the remains of stolen corpses and infusing life into that which had been dead, Frankenstein then must become accountable for his Creature, who becomes a homicidal monster. This timeless tale of horror holds warnings for a society intent on innovation without thought for the costs that could be incurred.
Tickets are $12 general admission, $8 for seniors and students, and in honor of Veterans Day, admission to any performance is free with a Military ID. Tickets are available at the Performing Arts Theatre Box Office (661-722-6580) Wednesdays and Thursdays 12pm-4pm, and 2 hours before each performance. For additional information, please call 722-6393.