Perlan 2 Update: 52,172 feet in the Polar Vortex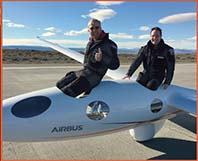 Antelope Valley College will welcome The NASA Armstrong Colloquium Series speaker, Jim Payne on Wednesday, November 29 at 7 p.m. in SSV 151 (AVC Board Room)
The Airbus Perlan 2 is a pressurized sailplane designed for flight up to FL900. The Perlan team was in El Calafate, Argentina from July to September 2017 for high altitude flights using the Polar Night Jet aka Polar Vortex. Jim Payne will report on the campaign including the September 3 flight to 52,172 feet GPS altitude (FL540).
Jim Payne started soaring at the Air Force Academy in 1971. He graduated from the Academy as the Class of 1974 Outstanding Cadet in Soaring. During over 6,300 hours of soaring, he has earned a Gold Badge with 3 Diamonds, a 1,000 km Diploma, a Triple Lennie Pin, a World Distance Award, 14 World and over 90 national records. Known as "Jet Pilot" in the racing community, he won the 1996/1997 Hilton Cup and was the 1999 US National Open Class Soaring Champion. Jim has won six OLC World Championships (distance) and eight Speed OLC World Championships.

JP was the U.S. Team Manager 5 times and was an Open Class pilot at the 2001 World Championships in South Africa. His longest flight is a 2,907 km (1,806 sm) OLC flight. Jim holds the fastest US record of 305 kph (189 mph) over a 300 km Out & Return. He was awarded the 2001 Lilienthal Medal winner (highest award given by the FAI for gliding) and is a member of the U.S. Soaring Hall of Fame.

Jim was a Distinguished Graduate of USAF Test Pilot School, Class 82B. He worked many years at Edwards where he was an F-16XL test pilot, an instructor at TPS, and a Northrop Grumman manager of Global Hawk flight test. Jim piloted the first flights of the Northrop Grumman Firebird II and the Perlan 2.