AVC Student Athlete Retreat with Speaker Dr. Mark Robinson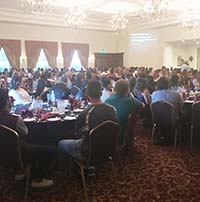 Antelope Valley College Athletics hosted its first Fall Student Athlete Retreat with a presentation by Dr. Mark Robinson.
Dr. Mark Robinson is a world leader in understanding the behavior and personal development needs of the athlete. He has worked closely with high schools, colleges, professional athletes and foreign governments, helping them to understand the intricacies of student athlete and professional athlete development. Over the course of a 20-year study, Dr. Mark has developed a unique framework committed to the improvement of long-term athlete success.
Dr. Mark has been a guest on a number of podcasts, blogs, radio shows and ESPN's Outside the Lines addressing the issues and challenges athletes face today. By virtue of his experience and success, he offers a uniquely qualified perspective unmatched by most in the industry. Today, he is a dedicated husband and father of three young athletes and as senior director of the IPPD, he remains wholeheartedly committed to personal, social and professional developmental success of the athlete and the athletic community.
This event was organized and sponsored by Antelope Valley College Student Equity.