Biology 205 Introduction to Biotechnology for Spring 2018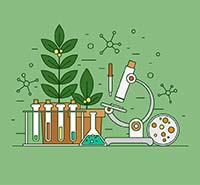 Biotechnology takes what we know what cellular and biomolecular processes to make products that help us in our lives and the advancement of science. Class lectures will meet Mondays and Wednesdays from 11-11:50 am and lab will be on Fridays from 11am-2:05 pm.
Course Prerequisites: Completion of BIOL 110 or higher and CHEM 101 or higher. Eligibility for College Level Reading and ENGL 101 or satisfactory completion of ENGL 101 required.
Course Advisory: Completion of BIOL 204
If you are interested in taking an exciting journey into biotechnology, come and join this hands-on and inquiry-based class. It will be a blast! Contact Jedidiah Lobos at JLobos@avc.edu for more information!