AVC Symphonic Band Tidbits Concert to be Held Saturday, November 18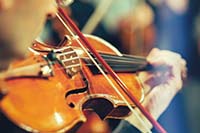 The AVC Symphonic Band will present its "Tidbits" concert on Saturday, November 18 at 7 PM in the Performing Arts Theatre. This program will highlight the various instruments of the Symphonic Band by presenting bits and pieces of repertoire through history, style, and genre. Specifically, this concert will include many of our wonderfully talented student soloists, a handful of challenging chamber music pieces, and Symphonic Band works by Shostakovich, Jacob, and Maslanka.
Although this event is not listed on the FPD calendar, you may claim Standard 3 credit through self-reporting. Tickets ($7) may be purchased online or at the box office.