Submitted by

rmorgan12

on Thu, 09/07/2017 - 2:14pm
Job Fair Set for September 13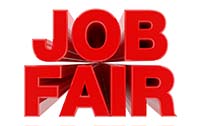 Job seekers are encouraged to attend the Antelope Valley College's Fall job fair Wednesday, September 13, 3 p.m. to 7 p.m. at the Antelope Valley College Lancaster campus Library Plaza, 3041 W. Ave. K. The greater Antelope Valley community is invited. General parking is free and open to the public.
The fair, hosted by the college Job Placement Center, typically attracts more than 1,000 job seekers. More than 50 companies and organizations are expected at this year's event including public safety agencies, transportation companies, education, healthcare and many more. Job seekers are encouraged to dress professional and bring a resume. 
Antelope Valley College Job Placement is still accepting late registration for additional employees. This is a no fee event. Contact the Job Placement Center for more information, (661) 722-6300, ext. 6358.