AVCCD Board of Trustees Sworn in at AVCCD Meeting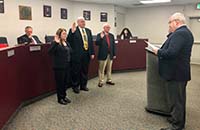 AVCCD Board of Trustees Barbara Gaines of area No. 5, Michael Adams of area No. 4, and Steve Buffalo of area No. 2 were sworn in at the December AVCCD meeting. Incumbent Buffalo was re-elected, receiving 51.5% of the votes cast in Los Angeles and Kern counties. Challengers Miguel Coronado and Byron Glennan received 25.3% and 23.1% of the vote, respectively. Adams and Gaines ran unopposed.
As the annual organizational meeting, new officers of the Board were elected. Trustee Lew Stults was elected President, Dr. Laura Herman Vice President, and Steve Buffalo will serve as clerk.