AVC Theatre Arts Original One-Act Festival Contest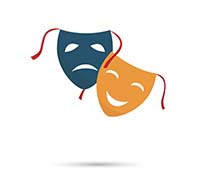 The Antelope Valley College Theatre Arts department announces the Original One-Act Festival contest is now open to all students and staff at the college. The script deadline is Friday, March 2.
Scripts must be from 2-10 minutes in length, in standard play format, PDF and without the playwright's name. They must be received at enewman2@avc.edu by 11:59 p.m. March 2. The playwright's name and contact information must be sent in a separate e-mail with the title of the play as the subject line.
A panel of Theatre Arts Department faculty will select the winning plays. For more information, please contact the Eugenie Trow at etrow@avc.edu or Erika Newman at enewman2@avc.edu.