AVC A.S.O. Skills Club Brings Home the Gold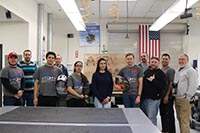 The AVC Skills club participated in several Welding and HVAC categories at the regional competition held at LA Trade Tech on Saturday February 3. Award winning students that participated in the Regionals Skills Competition include Payden King "Gold" MIG Welding, Erika Prieto "Gold" Oxy-Acetylene Welding, Enrique Vega "Gold" Shielded Gas Arc Welding and, Daniel King "Silver" Shielded Gas Arc Welding.
Congratulations to Gary Wheeler, the Skills Club Advisor, and lead Welding instructor on the welders win in every competition event they entered.
Rudolfo Hernandez claimed the honor of being the first ever Antelope Valley College student in the HVAC/R program to participate in the HVAC competition.