Veterans Center Coordinator Honored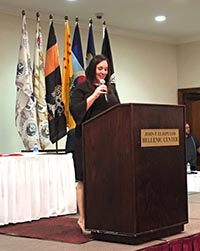 Congratulations to Monteigne Long, Coordinator of Veterans Programs AVC, for being honored by Vets 4 Veterans for her work with veterans, dependants and military families.
Vets 4 Veterans is a local, grass-roots non-profit organization dedicated to empowering local veterans, who are suffering the physical and psychological wounds of war, to successfully reintegrate into the life of the community. Vets 4 Veterans awards scholarships for higher education and grants assistance in cases of hardship or family need.