Palmdale Center Open House to be Held January 24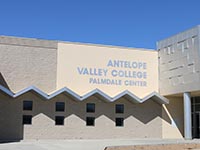 Tour the new facility including 17 modern classrooms, express counseling, financial aid and assessment, library and resource center and so much more. Staff, students and the community are welcome on Wednesday, January 24 from 4:30 - 6:30pm. Free parking and refreshments will be served.
Our Palmdale Center is located at 2301 East Palmdale Blvd. Palmdale CA 93550.