Music Competition Winners to Perform March 24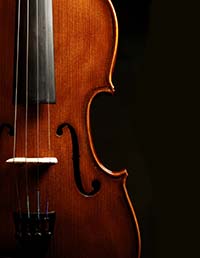 Young winners of the annual Gail Newby Concerto Competition and AVSOMC Bach Competition, sponsored by the Antelope Valley Symphony Orchestra and Master Chorale, will perform at 8 p.m. March 24 at the Antelope Valley College Performing Arts Theatre, 3041 W. Ave. K, Lancaster.
As the first-place winner of the Gail Newby Concerto Competition, piano division, 13-year-old Andrew Shi of Walnut will open the program with the first movement ofChopin's Piano Concerto No. 2 in F Minor. Shi will share the program with instrumental division first place winner Audrey Park, a 15-year-old violinist from Valencia. She will perform Sarasate's Carmen Fantasy. Park takes her place on the main stage this year, after receiving an Honorable Mention in last year's competition.
Shi and Park each received scholarship awards of $500 for their accomplishments. Other top competitors not performing are second place instrumental winners John Mietus and Alison Park; Claire Park, third place instrumental, and Marie Ananian, second place piano. Honorable mentions were awarded to pianists Dominic Yoder and Clarice Kwan.
In a 7 p.m. recital prior to the concert, five first-place winners of the AVSOMC Bach Competition will perform in recital. They are Leonora Vukovitz, 7, of Thousand Oaks; Keigo Tamaki, 12, Santa Clarita; Daichi Skye Horiguchi, 15, Manhattan Beach, and Varun Gupta, 16, of Porter Ranch. Jennifer Chor of Palmdale, who competed in the MTAC Antelope Valley category, will also perform.
The first place Bach Competition winners received scholarships of $300 each. Chor received a $100 scholarship. Second place awards went to instrumentalist Anthony Yoon and pianists Alexander Freedman and Aaron Kwan. Honorable mentions were awarded to pianists Ashley Dixon and Gabriela Chao.
The Bach Competition, now in its 19th year, promotes achievement in the arts by young people, according to Dr. David Newby, artistic director. The Gail Newby Concerto Competition is in its 15th year and is open to young musicians under the age of 25. Gail Newby, the late wife of David Newby, was the principal keyboard player for the symphony for many years and an adjunct instructor at Antelope Valley College.
For more information on AVSOMC music competition programs, please visit the group's web site at avsomc.avc.edu . Tickets for the March 24 concert featuring these performers are available at the AV College Performing Arts Theatre box office, (661) 722-6580 or online at tickets.avc.edu .