AVC Writing Tutors Attend SoCal Writing Center Conference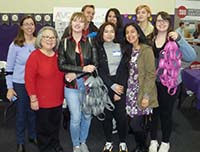 Seven AVC Writing Tutors attended the SoCal Writing Centers Conference on Saturday, March 3 at Cal Lutheran University. They were accompanied by writing center specialists, Wendy Rider and Prof. Diane Flores-Kagan (left side of photo). An AVC Foundation grant funded tutor participation in this event.
The students (left to right) are Holly Creech, Charles Bordy, Michelle San Andres, Amal Al Salek, Aldi Garcia, Alanna Vaughn, Leilani Lay. Two of the tutors, Charles Bordy and Leilani Lay, presented a breakout session that was highly attended by tutors from other colleges all over Southern California.