Marauder Bookstore News Updates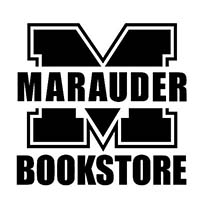 The Marauder Bookstore wants to thank everyone that contributed to the October Breast Cancer Awareness through their donations or purchasing Breast Cancer Awareness shirts. As a community, we raised a total of $524.93 with Marauder Bookstore contributing an additional $150.00 to a total of $674.93. This will be given to City of Hope and their Breast Cancer program. Again, we thank everyone for their contribution.
Happy Holidays! Come by the Marauder Bookstore to view our two display windows and vote for the window you like best. The voting is now through Thursday, December 6. We will count the votes on Thursday to determine the winner. Additionally, we will pick three ballots from the voting to win special prizes.