Antelope Valley College Theatre Arts Department Presents Our Stories, Our Voices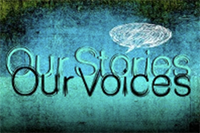 Our Stories, Our Voices, an evening of theatre celebrating the diverse voices of the American stage through performances of published plays, original theatrical works, and devised ensemble pieces. From the scope of women, people of color, and the LGBTQ community, these diverse voiceswill be honored and explored as an integral part of theatre and ourcommunity.
Join us for an evening of stories shared by many voices of Theatre Arts students, Thursday, December 6 at 7pm in the Black Box Theatre. Donations welcome.