AVC Building OF1 Demo Begins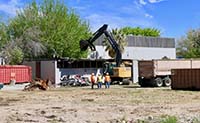 Tuesday, April 23, the demolition of building OF1 started. The demolition of the the building located between the gym and library is slated to be completed by the end of the week. OF1 is original to the AVC Lancaster campus and has housed a number of faculty and staff offices in its 50-year history.  
Building OF1 is being demolished to make room for the new Sage Hall. Over the last few weeks, OF1 has been behind construction fencing as crews remove furniture and hazardous materials. Groundbreaking on Sage Hall will happen in June. The new Sage HALL will house the Learning Center, tutoring facilities, office space and classrooms.