Welcome Back!
Parking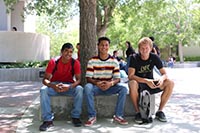 Please drive safely and give yourself extra time to find parking as traffic is heavy the first few weeks of class. There are multiple entrances to campus available that place you near academic buildings. Try the entrances to campus from Avenue J-8 and utilize north parking lots (13, 14, 15 and 16) at peak times. For more details click here.
Construction
From now through approximately mid-October 2019, College Drive (the small road to the left/on the south side of the Performing Arts Theatre) will be closed from Parking Lot 5 to Marauder Way. Thru traffic for Marauder Way will be rerouted to using the entrance to lot 3 at Avenue K. The construction taking place in this area is making way for a new Security building.
Office Relocations
The offices of Student Life and Services, Student Health Services, and ASO have moved to Building T700, E1 located near the Fine Arts Quad. For more information, call (661) 722-6300, ext. 6683.
Hours of operation are Monday-Thursday 7:30am-6pm and Friday 7:30am-11:30am.
Services include: Student IDs/Photos, ASO Student Government, Club Information, Hearts & Hands Pantry, Dress for Success, Flyer Posting Requests, Student Health Services (Mental Health Counseling, Dental and Medical Information), SOAR High School and College Liaison, and Community Partners.
Reminder: AVC is 100% Tobacco-Free
For the health of our students, staff and visitors, AVC is now 100% tobacco-free.
While buildings and grounds have long been smoke-free, this updated policy extends to the entire campus including sidewalks, parking lots, in college vehicles, or in any personal vehicle parked on campus. Tobacco products include cigarettes, cigars, little cigars, chewing tobacco, pipe tobacco, snuff, or any electronic device that delivers nicotine or other vaporized liquids to a person inhaling from the device (e.g. e-cigarettes and vaporizers).