Sage Hall Groundbreaking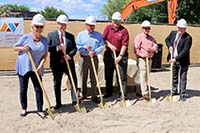 Sage Hall is a 34,295 square foot building that will serve as the new home for the Learning Center and also includes classroom space. With a budget of $23 million, the construction will take approximately two years to complete. Sage Hall will be the first major building constructed utilizing Measure AV bond funds.
The Sage Hall Groundbreaking took place on Tuesday, June 4.