AVC Sheriff's Update/Timely Warning: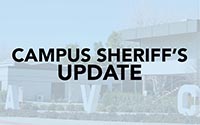 This is a timely warning advising employees and students that an incident allegedly occurred on the Antelope Valley College campus on Thursday, September 5, 2019 at approximately 10:10pm. A student reported to the campus Sheriff's Department that he was robbed at gunpoint by a black male described as being 6 feet 2 inches tall, wearing a black tank top, and having dreadlocks. The student told the Sheriff's Department that during the incident he was waiting for a ride home in front of the AVC sign on the south end of the campus. The student states that the suspect left the campus in a red 4-door sedan (possibly a 90's Toyota Camry) along with the driver of the vehicle who was also a black male.
The Los Angeles County Sheriff's Department is urging AVC employees and students to remain vigilant and report anything suspicious. If anyone has information or possibly witnessed the incident they are urged to call the Lancaster Station Sheriff's Department at 661-722-6399.